June 15 (Sat), INTERSECTION 1st Fan Club Event "TENS" Opening Session will be held!
Fan club events, INTERSECTION 1st Fan Club Event "" TENS "Opening Session" Will be held on June 15 (Sat) at SEL OCTAGON TOKYO (Roppongi, Tokyo). In addition to live performances, we are preparing various projects, so please come to the venue!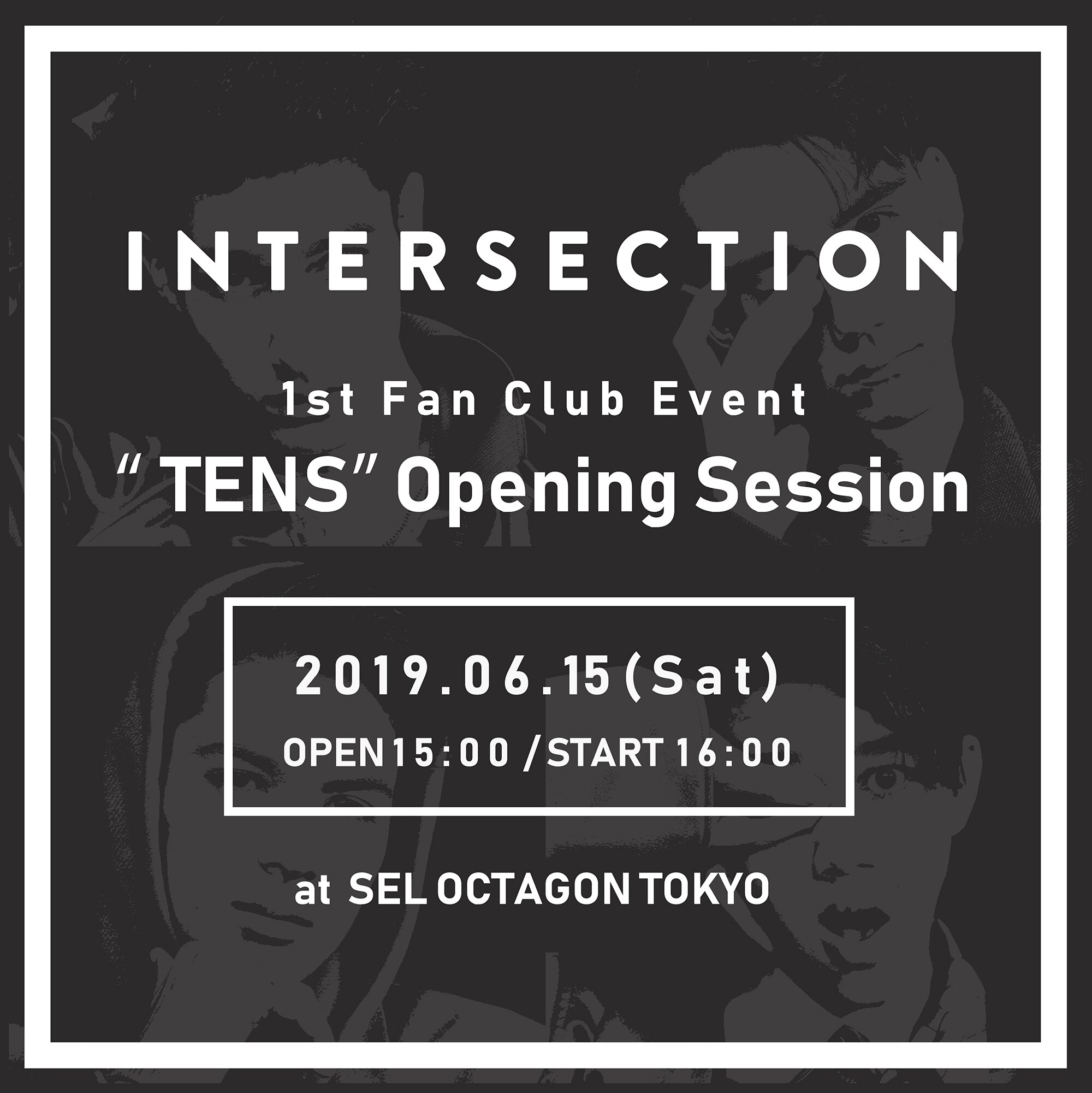 INTERSECTION 1st Fan Club Event ""TENS" Opening Session"

Date: Saturday, June 15, 2019
Holding time: OPEN 15:00 / START 16:00
Place: SEL OCTAGON TOKYO

〒106-0032
Tokyo 7-8-6 Roppongi, Minato-ku
AXALL ROPPONGI B1F
https://sel-octagon-tokyo.jp/

Ticket price: 2,700 yen (tax in)
Ticket purchase page: https://fanicon.net/ticket/7
*Only members of the fan community "TENS by INTERSECTION" can purchase.
*Up to 2 tickets can be purchased per person.
* Those who accompany with the second ticket can enter even if they are not a member of the fan community "TENS by INTERSECTION".

[Venue limited gift]
By presenting the fanicon member screen at the venue,
Get "TENS Silicon Band" as a gift!
You can only get it at the venue, so don't miss it☆

・Notes to be posted on the ticket

[Prohibition of dangerous acts]
■Dangerous acts such as mosh and dive in the venue are strictly prohibited. The organizer, performers, and related parties are not responsible for any accidents or troubles that occur without following the instructions and cautions of the staff.

[Notes when entering the venue]
■Admission will be based on the reference number. Also, admission during the show may be restricted.
Please note that we cannot take any responsibility for lost or stolen items.
■If you do not follow the instructions and cautions of the staff in the venue, you may be refused entry or may be asked to leave.
■In each performance, a camera for video recording and photography may enter the venue, and the appearance of the visitors may be reflected in the medium/product video. Please note that the recorded images and photographs may be used for commercialization and promotion.
[Cautions/Prohibitions outside the venue]
■Please refrain from any activity that may disturb local residents or others around the venue.
■Please enter, line up, and leave according to the instructions of the staff.
[Prohibition of ticket resale]
■ It is strictly prohibited to use the ticket and the right to purchase the ticket for sales promotion other than the regular price, such as reselling in business or the act judged to be similar. If any of the above acts are discovered, the ticket may be invalidated and the admission may be refused. In this case, we will not refund the ticket fee and travel expenses.
Resale acts include auctioning/successful bidding, online sales, ticket shops, purchasing agents, slaughter shops and malicious third parties.
■When you give a friend or acquaintance at a fixed price or less, or when you give a ticket to a companion, please be sure to explain from the ticket purchaser so that you will not resell it such as auctioning.
*We are not responsible for any troubles related to the transfer of tickets.
*Please note that performance tickets that cannot be entered by anyone other than the person who purchased the ticket cannot be transferred in any case.
[Regarding tickets]
■Tickets are valid once per person only at the designated venue and due date.
■Tickets will not be reissued under any circumstances (lost, lost, damaged, etc.). In addition, you cannot cancel or refund after purchasing the ticket.
[Other important notes/prohibitions]
■We do not allow drunk people to enter.
*Please note that the contents of the performance may be changed due to circumstances.
■We will not exchange tickets for other dates or refunds or refunds, except when the show is canceled due to force majeure.
■If the event is canceled due to force majeure, the refund will be made at the designated place within the designated deadline. However, if this ticket is lost or is significantly damaged or damaged, no refund will be given. In addition, we will not compensate for travel expenses etc. in case of box office suspension or postponement.
[For guests who are planning to visit with disabilities]
*Customers who need assistance or require special support when visiting the venue, please contact the performance counter in advance. Please feel free to contact us.

[Contact information]
Avex Customer Support
https://ssl.avexnet.or.jp/form/ask/avexportal/
TEL: 0570-064-414 (Weekdays 11:00-18:00)
* Due to system maintenance, telephone support may be closed.